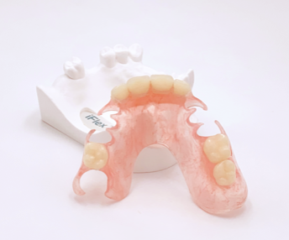 TCS iFlex™ is a highly translucent, polyolefin thermoplastic popular for its simplicity to finish and polish among dental technicians and its resistance to stains and easy maintenance among patients. iFlex™ offers an ideal degree of flexibility and allows for a durable, lightweight, and modern flexible partial. TCS iFlex™ also offers higher flexibility and color stability than the competing FRS injection materials.
iFlex™ can be repaired with re-injection. Small repairs, air bubbles, clasps and 1 tooth additions can be made with the Hot Air Welder or the JP90 injector

The 25mm cartridges fit in all of TCS injectors and in most injectors on the market including Valplast, Flexpress, and others. Cartridges with tabs, nozzles, or 22mm diameter available for those with Dentsply® Success® machines, or for rarer machines.